Course details
【Luxurious! Nagoya meal course】 3h with all you can drink ★ All 9 items · 5000 yen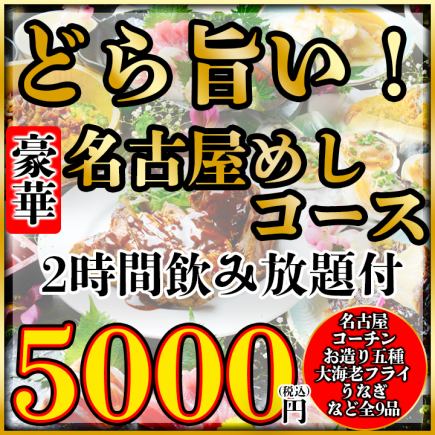 5000 Yen
All-you-can-drink-inclusive (tax included)
All-you-can-drink available

All-you-can-drink for 3 hours (last order 30 minutes before)
Available days for reservation

Monday - Sunday - Public holidays - Holidays
2 hours with unlimited drinks 5,000 yen (tax included) (9 items in all) Nagoya Cochin · large shrimp fly etc. ★
Course menu
【Luxury! Nagoya meal course】
· Boiled beef stew with noodles
· Five season sashimi with seasonal fish
· Caesar salad with mature egg
· Nagoya Cochin Chicken Wings
· Large shrimp fried Hatchobo miso sauce
· Nagoya Cochin Skewaki Assortment
· Nagoya Cochin's Steak
· Eel breakfast meal
· Ogura Toast
* In case of using credit card, we will receive consumption tax separately.
Yen Tasu2160, you can offer a message special pitcher parfait!
Please use to surprise to the guest of honor, such as birthday, farewell Mukaekai.
※ There is the case that the course content by buying situation is to change.Please note.
All-you-can-drink menu
·draft beer
· Draft beer, Kirin Zero isi
Shochu
Rock, whiskey and water, hot water allocation, Oolong split
· Hot sake 2 Go / cold sake 2 Go
· Recommended sake
Wine / whiskey
Red, white / lock whiskey and water, soda
·Cocktail
Cassis, peach, gin, vodka, Kahlua
- Zhuhai
Lemon, plum, grape, Oolong, Calpis
·plum wine
Rock, soda, hot water allocation, non-alcoholic plum wine
·Soft drink
- Oolong, orange juice, grapefruit juice, Calpis, grape
2018/10/18 update